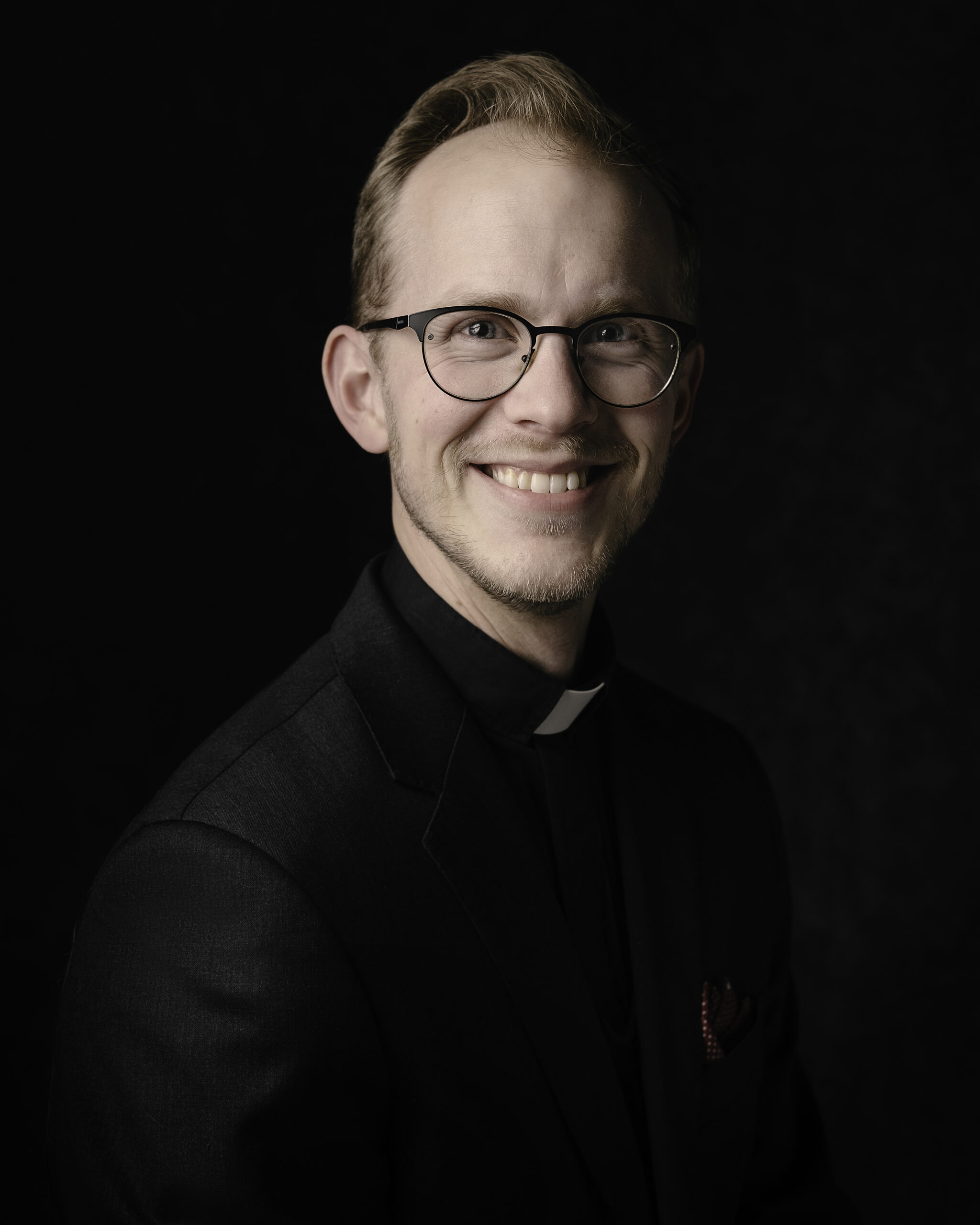 Pastor Michael Lilienthal
Michael Gene Lilienthal was born to Gene and Cynthia (nee Bakken) Lilienthal in Waconia, Minnesota, 31 January 1989, the first of four children.  He was baptized 5 February 1989 by Rev. Gene Lilienthal at Saint John Lutheran Church, Plato, Minnesota.  At the time of his birth, his father was training at Concordia Lutheran Seminary, Ft. Wayne, Indiana, but later transferred to Bethany Lutheran Theological Seminary, Mankato, Minnesota.  Lilienthal was confirmed 27 April 2003 at Good Shepherd Lutheran Church, Brownsburg, Indiana, where his father served as pastor.  Upon graduating from Brownsburg High School in 2007, Lilienthal matriculated at Bethany Lutheran College (BLC), Mankato, Minnesota.  During his time there he was actively involved in the theatre department, performing in main-stage productions of Romeo and Juliet, Child of Grace, Tartuffe, and as the title role in Hamlet, in addition to directing, writing, and otherwise participating in student-led and community programs.  He graduated 13 May 2011 with a Bachelor of Arts degree in English, magna cum laude.  The following semester he began his studies at Bethany Lutheran Theological Seminary, Mankato, Minnesota, where, in his senior year, he served as student body president, and, under the advisement of Rev. Prof. Adolph Harstad, wrote and defended his Master of Divinity thesis, titled "The Righteous Cry Out and the Lord Hears: Using the Psalms Privately and Corporately."  On 14 May 2014, Lilienthal received his vicar assignment to serve Redeemer Lutheran Church, Iola, Wisconsin.  After he received a degree as Master of Divinity upon his graduation from the seminary on 13 May 2015, he was called to serve Redeemer jointly with Messiah Lutheran Church, Omro, Wisconsin, and on 22 April 2018, he was installed as pastor of Our Savior's.
Lilienthal has a gift for languages, and particularly enjoys the translation of biblical Hebrew and Greek, a gift he uses in his own studies and sermon preparation.  Additionally, he is a talented writer of poetry, fiction, and drama, most recently writing for and collaborating within the Tapestry Radio Network, a podcast network he co-founded with fellow BLC alumnus Ethan Bartlett.  In 2012 Lilienthal was commissioned by the Evangelical Lutheran Synod Historical Society to write a stage play depicting the life of Rev. Bjug Harstad, first president of the reorganized Norwegian Synod in 1917.  The play, entitled The Oak Trees Still Stand, was produced and performed by ELS members and BLC students under the author's direction in the Sigurd K. Lee Theater for the 2013 Synod Convention.
On 27 February 2010 Lilienthal married Sarah Elizabeth Doepel, with whom he has been blessed with five children, all now resting in the loving arms of their heavenly Father.